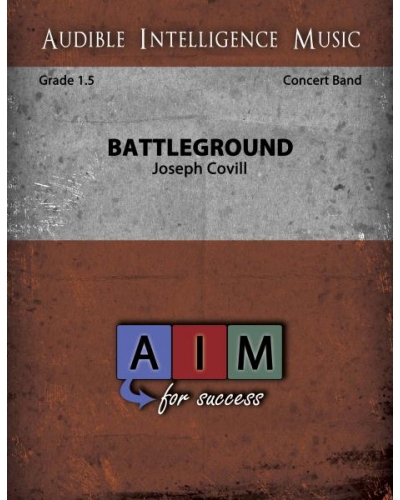 Experience the dynamic and captivating soundscape of Joseph Covill's "Battleground" for a thrilling musical journey. Packed with energetic percussion, powerful ensemble passages, and a percussion soli section, this piece offers young bands an engaging and rewarding experience. This electrifying composition showcases the strength, precision, and versatility of the ensemble, creating a lasting impression on both performers and audiences alike. 
Battleground begins with a grand, commanding presence. The strong ensemble passages at the opening and closing of the piece allows each instrument to shine, creating a unified sound. In the middle of the piece lies a building percussion soli section that emphasizes rhythmic excitement and intensity. Young musicians will benefit from the opportunity to display their technical skill and musicianship in this section. 
The strength of Battleground lies in its perfect balance between complexity and playability. It is difficult enough to challenge and inspire young musicians, while remaining achievable and accessible. As the composition progresses, it gradually increases in intensity and excitement, inspiring students and motivating them to reach new heights. 
Joseph Covill's piece is suitable for concerts, competitions, and festivals. It possesses the power to evoke strong emotions and create a sense of unity within the ensemble. As a result, Battleground is sure to be a crowd-pleaser that will become an unforgettable addition to any band's repertoire. 
Eager to explore Battleground? Listeners can download the score, parts, and additional materials for only $40. With its abundance of percussion and electrifying atmosphere, this energetic piece is guaranteed to leave a lasting impact and become a standout addition to your band's repertoire. 
For a truly thrilling musical journey, take a journey through Joseph Covill's "Battleground". This dynamic composition provides the perfect platform to display the precision, energy, and versatility of your young band, making it an ideal choice for concerts, competitions, and festivals. Make sure to add this energetic piece to your band's repertoire for an unforgettable performance!
The impressive thematic material in Battleground provides an enjoyable challenge for the ensemble to explore, while the captivating percussion passages provide a powerful and unique atmosphere. From a conductor's standpoint, the score offers clear markings that easily guide students and create a strong sense of unity. 
Additionally, Covill's piece is reinforced with an accompanying recording to help young bands master the piece before playing in front of an audience. The recording features a live performance conducted by the composer himself, providing students with a valuable opportunity to listen and learn from a professional. 
For a truly exhilarating experience, pair the recording with the score for a fully immersive experience. Use the recording as a tool to better understand the musical nuances and stylistic details that make Battleground an engaging and enjoyable work. 
Another great thing about Battleground is its flexibility—it is written for a standard band setup, but can accommodate an expanded ensemble if necessary. Whether your group has a small ensemble or larger ensemble, this piece will remain playable and fun for all performers. 
Conductors will appreciate the fact that Battleground is written to showcase the balance between musical texture and volume. This ensures that a wide range of dynamics can be explored without sacrificing the overall sound quality of the music. 
Battleground also offers an abundance of teaching and learning opportunities. By exploring the various colors and textures in the composition, students can better understand how specific instruments interact within the ensemble. Together, they can explore the composers' musical thoughts to gain greater insight into the piece. 
With its accessible yet exciting nature, Battleground is sure to bring out the best in any group. The energetic and captivating nature of the music will allow for different interpretive possibilities, while still providing a rewarding and educational experience. 
Whether you are performing at a concert, competition, or festival, Battleground is sure to leave a lasting impact on both performers and audiences alike. With its electrifying and dynamic soundscape, this piece is guaranteed to become an unforgettable addition to your band's repertoire. 
Overall, Joseph Covill's Battleground is an ideal choice for young ensembles. Its dynamic soundscape and versatile nature offer something for even the most discerning musicians. With its unique blend of energy and captivating atmosphere, this piece is sure to bring a smile to any audience. 
So why wait? Download the score, parts, and additional materials for only $40 and start exploring Battleground today. Your band is sure to benefit from this unique and thrilling musical experience!