Homework Blues – Joseph Covill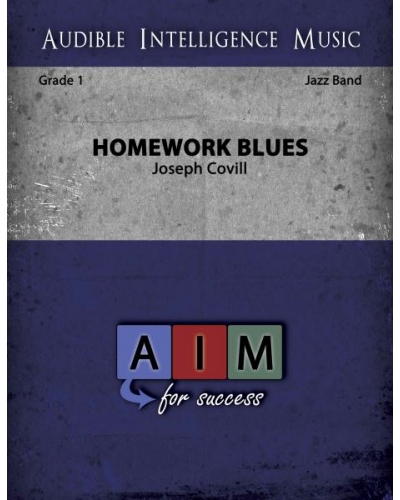 Students around the world can relate to Joseph Covill's debut jazz band piece, "Homework Blues". This lively and memorable tune gives performers a chance to express their struggles with schoolwork while learning the fundamentals of jazz music. A great choice for young bands, the piece is tailored to fit a variety of instruments including flute, clarinet, French horn, and tuba.
The piece has an instantly relatable student-focused theme that encourages emotional expression and camaraderie among ensemble members. Through its use of fun melodies and solo sections, beginners are able to start building a solid foundation in jazz phrasing and articulation. The composition also allows for self-expression and improvisation, helping young jazz players develop their individual musical voices.
Joseph Covill's composition provides an effective teaching tool for directors and educators as well. It gives a gradual introduction to the conventions of jazz, such as swing rhythms, blues progressions, and call-and-response phrases. Moreover, the well-structured arrangement and clear notation make it easy for instructors to guide their students through the learning process.
Overall, "Homework Blues" is a creative and engaging piece created to give beginning jazz bands a memorable performance experience. By touching on common student anxieties, Joseph Covill's piece resonates with performers and easily captures their attention. Musical pieces like this one are essential for inspiring young musicians and developing their enthusiasm for jazz music.
The piece is structured as a medium-tempo swing with a 12-bar blues progression. The melody is memorable and easy to follow, allowing for potential improvisation while the vivid lyrics help paint a vivid picture of student life. Each instrument has its own part to play, allowing each musician to use their own creativity when interpreting the score.
The vibrant harmonies add a great energy to the tune and provide an excellent opportunity for playing together as an ensemble. The melodic phrases can be pushed forward with strong dynamics to create a jarring effect that strengthens the lyrical content. Additionally, the jazz chords add an extra level of tonal color to the band's sound.
"Homework Blues" also provides an excellent opportunity for joint improvisations. Soloists can create their own phrases and explore different styles of jazz over the groove laid out by the rest of the group. For example, trumpet players can mix in some classic bebop runs while the saxophonist can explore various jazz scales.
The ability to express yourself through music is a valuable skill for young musicians to have. Through "Homework Blues", Joseph Covill's offers a platform for students to explore their musical ideas and develop their own creative voices. With its thought-provoking lyrics, danceable rhythms, and colorful accompaniment, the composition encourages student musicians to bring their best work to the ensemble.
The piece can also act as a source of motivation to stay focused on practice and strive for progress. By reminding performers of the struggles of completing schoolwork, "Homework Blues" gives them the incentive to work hard and reach their goals. Playing the song in a public setting can be especially inspiring as it allows an audience to appreciate the positive aspects of student life.
Another advantage of this piece is that it can be easily adapted to fit most school ensembles. The flexible form of the song and its beginner-friendly notation make it a great choice for any band, regardless of their skill level. Moreover, the piece's small size permits directors to rehearse it thoroughly and maximize each musician's preparation time.
Finally, "Homework Blues" is a great way for students to stay connected with each other. Performing the piece gives a chance to experience the joy of making music with friends or peers and creates meaningful bonds between the members of the group. Playing the song onstage or in the practice room can also increase student involvement in the jazz experience.
In all, Joseph Covill's "Homework Blues" is an excellent teaching tool that allows students to develop their jazz skills while still having fun. The flexible form of the piece makes it a great choice for any type of ensemble, and its inspiring themes are sure to connect with young musicians. Whether it's in the classroom or on stage, this timeless composition will always deliver an enjoyable performance experience.